How to check driver app version
We recommend all users to install the latest driver app version to not only avoid any issues but also get benefit from the newest features that we have.

2. You can see the driver app version in the column "App Version" which is recorded at the last active time which is in the column "Last Active".


Note: you can also see their usernames and their devices in the column "Username" and the column "Device".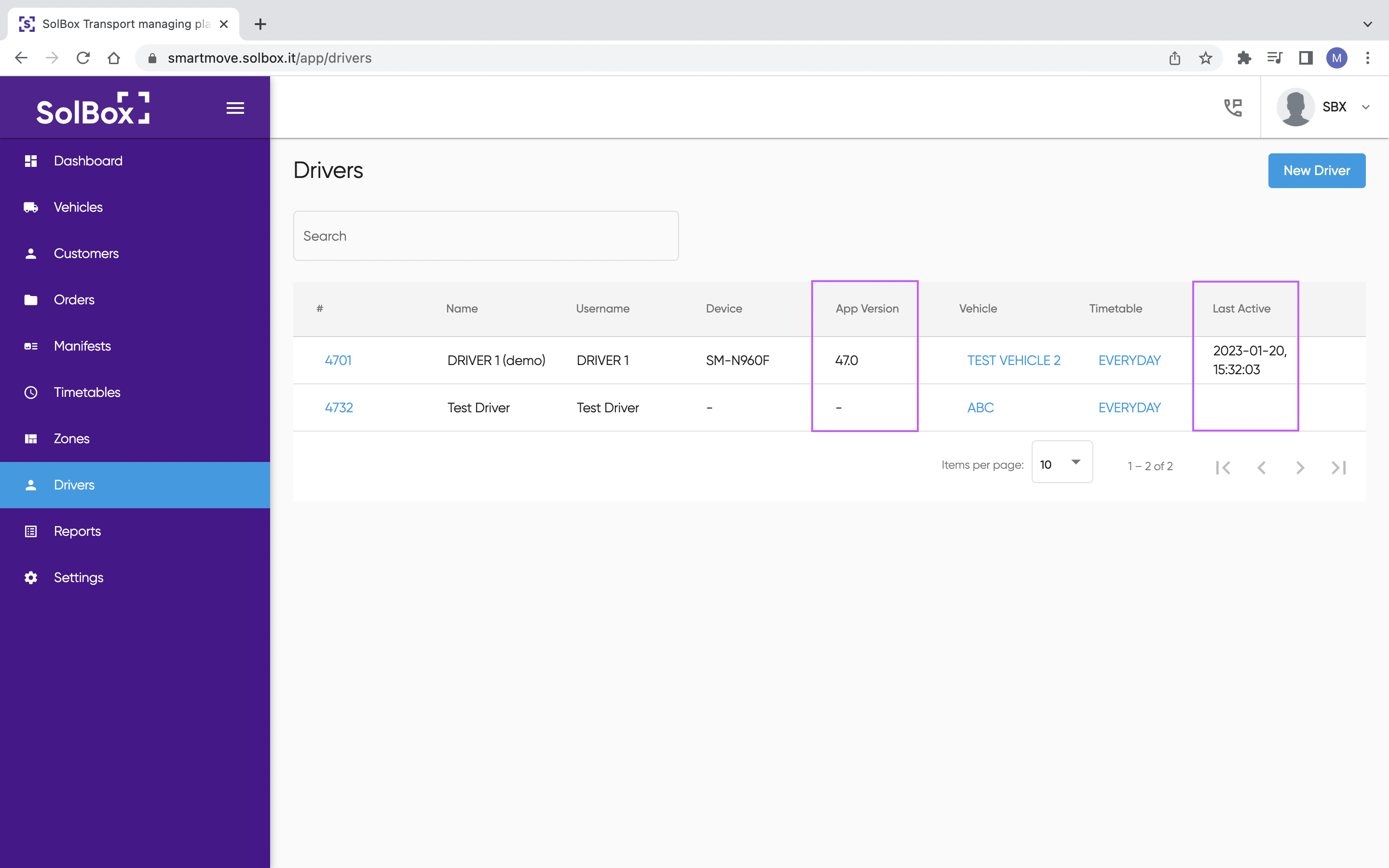 It is important to let your drivers know that they need to update their app so you can get the accurate information from them.
Related Articles

Trouble Shooting: Driver App

Try the following steps if an app installed on your phone has any of these problems: Not syncing. Crashing. Won't open. Won't respond. Isn't working properly. After each step, restart your phone to see if it fixed the issue. Step 1: Check phone/app ...

Driver app "SmartMove" Installation

Installation for Apple IOS 1. Download the app Download by QR code Download by link Apple iOS Download Go to App Store and search " SmartMove" > click "GET" 2. Allow the app to access the device's location Recommended: Select "Allow While using App" ...

Add Timetables/Assign to driver

Timetables are used to assign to drivers, for working hours for each day of the week. Route Optimizing Manifest requires a driver to be assigned, and each driver MUST have a timetable attached to for the optimization to run. You have to assign ...

How to customise Driver's details

1. Go to Drivers: https://smartmove.solbox.it/app/drivers 2. Select the driver that you want to edit details 3. You can change all the details in "GENERAL" as below: Name Phone Number PIN Timetable to match his/her working shift Preferred Vehicle ...

Prestart Management

Prestart Management is used to manage CHECKS in the driver app to perform daily prestart checks or fault reports, following maintenance checklists configured for your fleet. You can also take photos of faults and failed items to attach with your ...