Importing/Exporting Customers
Importing bulk customer details (name, location, contact info, default order notes) can be done from the customer menu (image below). The import template can be found
here
. The export icon can be found within the customer menu also, this allows all data to be extracted at any time into an excel format.
Importing Customers

2.
Click "Import" and select file to upload.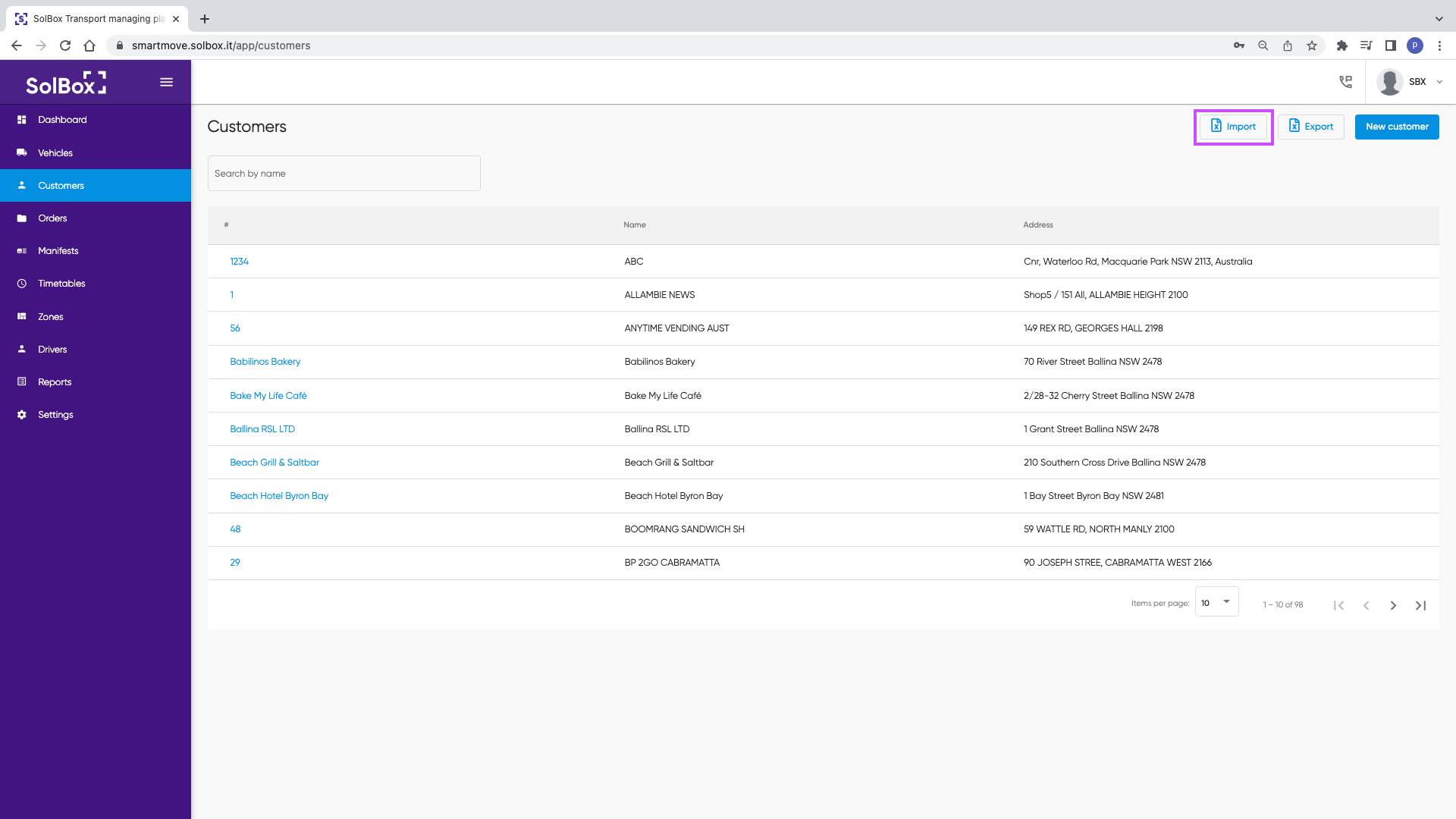 3. Select the file you want to import then click "Open"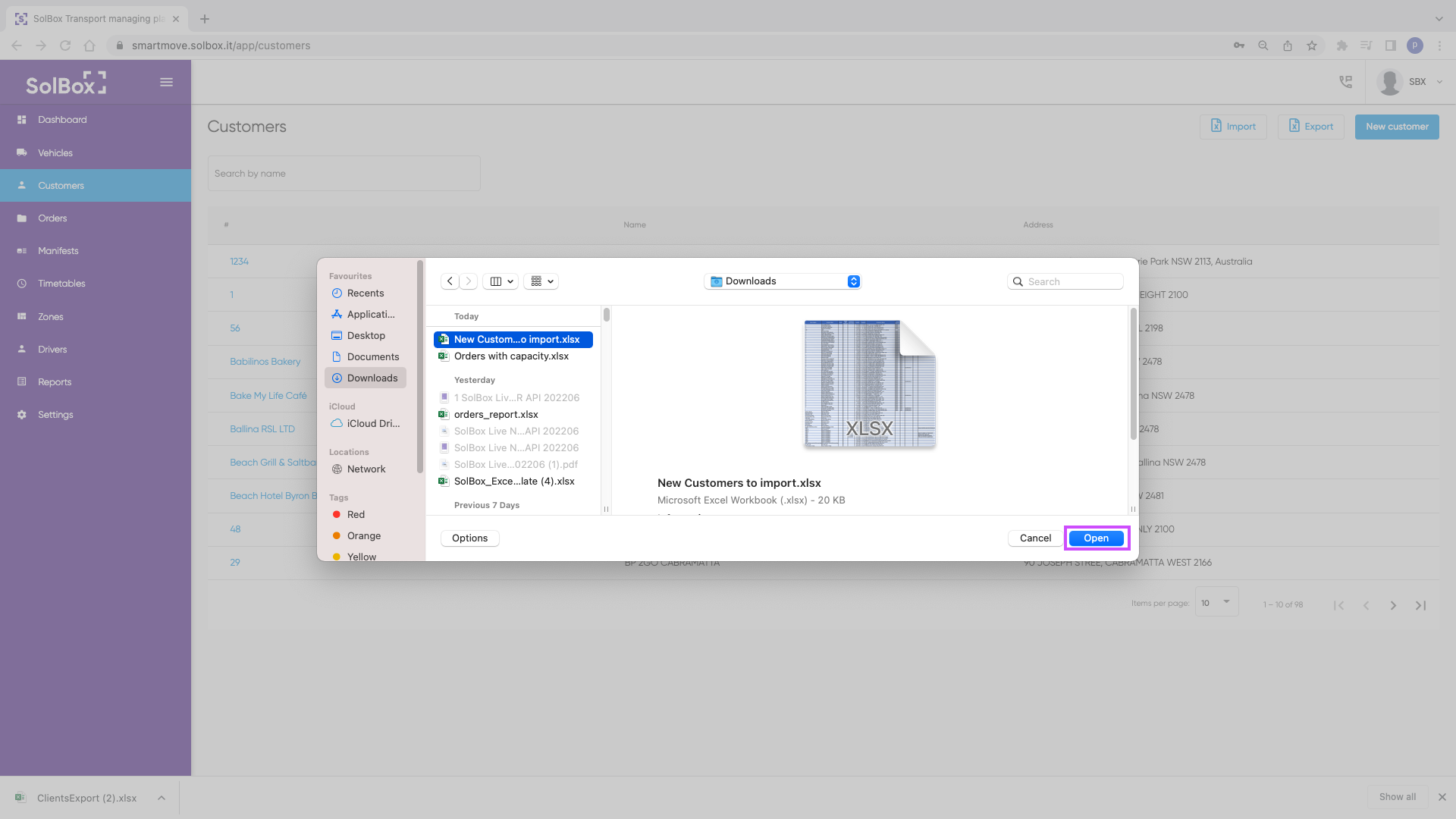 If successful, there will be a green pop-up notification on the bottom page.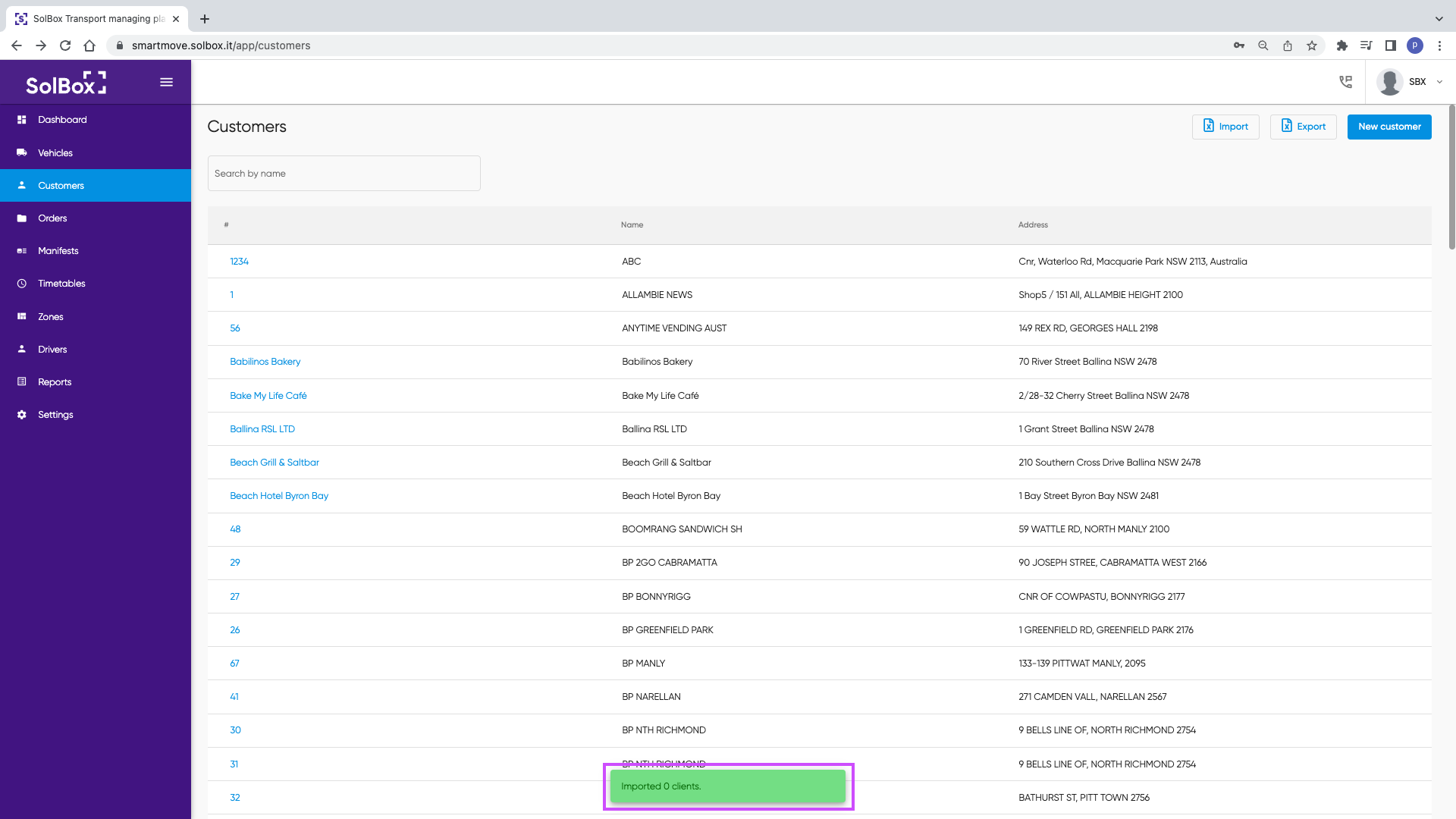 Exporting Customers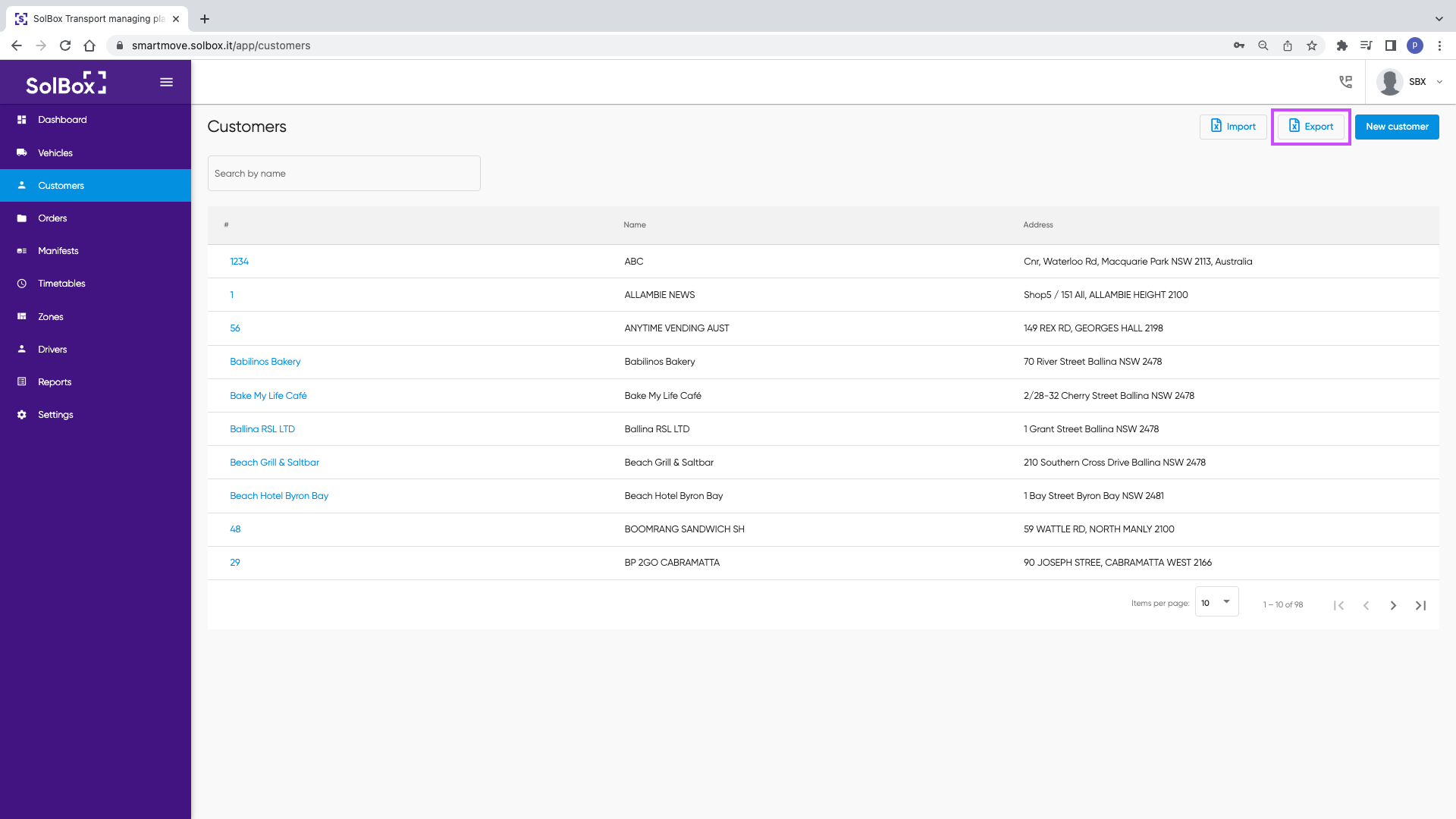 The export file will be automatically downloaded to your computer.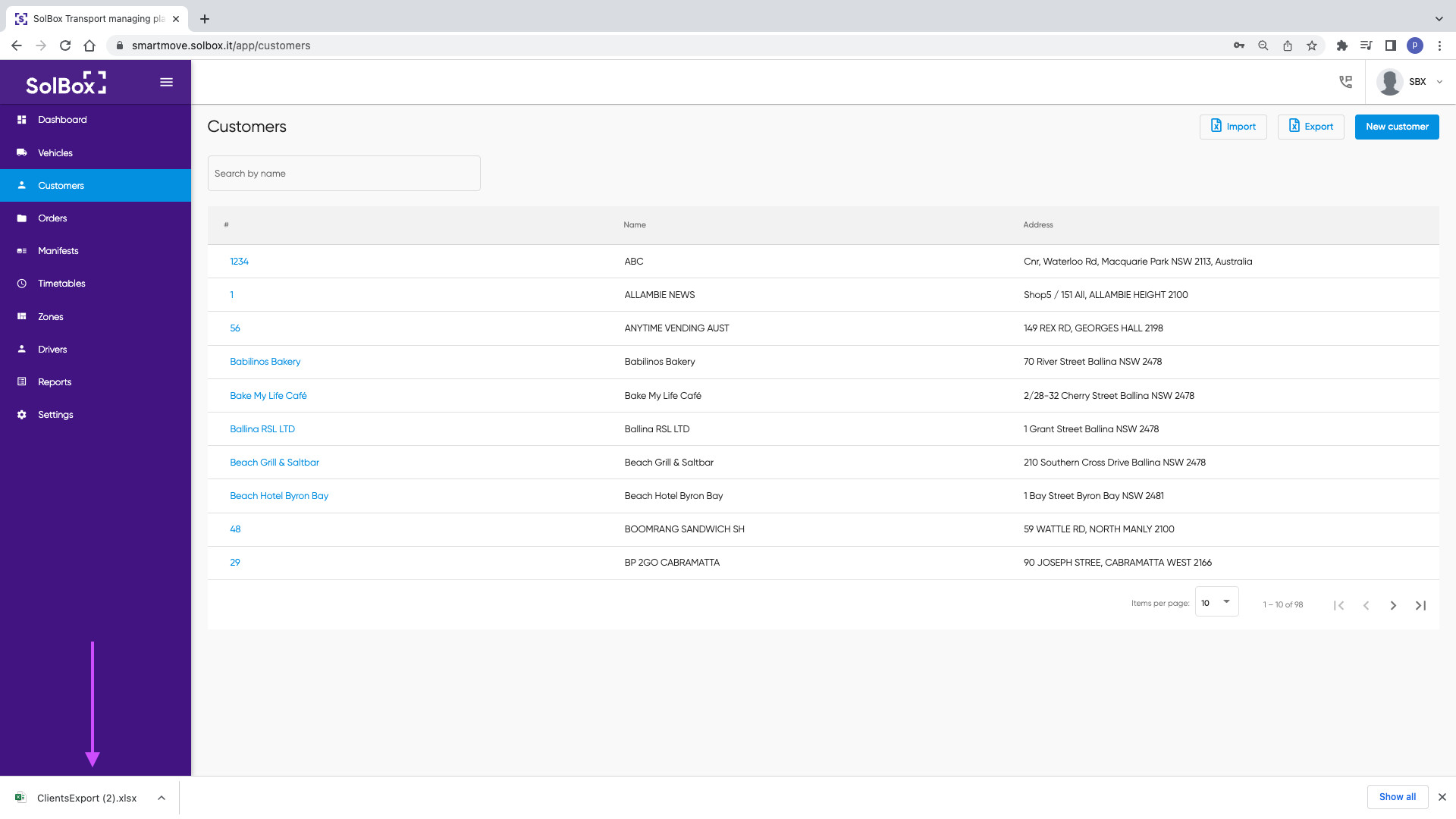 Related Articles

New customer

Customers are an essential part of the SolBox platform. Customer profiles can be created individually as explained below, or automatically created as part of an order import to the SolBox platform. A customer in SolBox means that a new or existing ...

How to view orders under a customer profile

1. Go to Customers: https://smartmove.solbox.it/app/customers 2. Search a customer by name 3. Click into the customer number (#) 4. Click "ORDERS" to see orders under this customer

Pick up/Delivery ETA & POD Notifications

How to Send Pick up/Delivery Notifications to Customers? Customers love to stay updated with thier order status. Our software allows automated pick up and delivery notifications for your business customers. It gives assurance that their orders will ...

Order Tracking Link

A 'Delivery Link' is a unique secure browser link that can be emailed or SMS to a customer who is receiving a pickup or delivery order. The tracking link can be automated to send to customers which have their contact details on a pick up or delivery ...

Time Windows

Time windows are created on individual orders, via an API import, or a part of an order spreadsheet import, alternatively the user can do a global change for all pickup and delivery order in the system settings. From the settings the user can select ...